About Stone & Tile Medics
Our hope is that as you to get to know us a little you will see what sets us apart
Hi there. I'm Brian Corsair, owner of Stone and Tile Medics. We are a small company dedicated to making your natural stone and tile surfaces look great and reflective of who you are. The surfaces we restore include: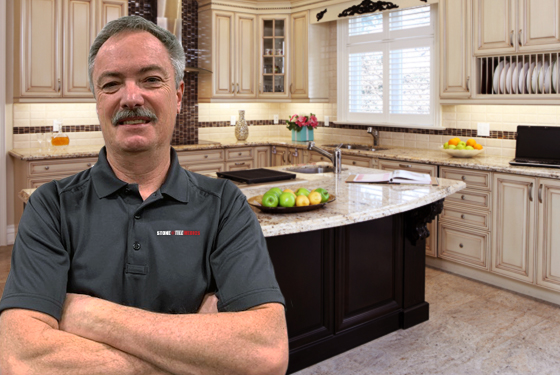 We treat our clients and their property with care and respect. We know that your time is valuable. Therefore we make a point of being on time for our appointments. We treat your property with extreme care. 
We will never underbid and cut corners or overbid and pad our pockets. With Stone & Tile Medics, you can always count on a fair and honest, competitively priced estimate for the highest quality craftsmanship.
We want to help you keep it looking its very best all the time, so we make it a point to leave you with our professional recommendations for care and maintenance instructions and cleaning products.
Friendly technicians, respect for your property and the results we promise, every time. We won't be satisfied until you are and we'll put it in writing. This is just another reason people choose Stone & Tile Medics.
As the owner of Stone and Tile Medics, I'm obsessed with customer satisfaction. This obsession began when I was fresh out of high school, and I started my first company, Corsair Quality Cleaning. With no advertising budget, I knew I had to rely solely on referrals. Because I offered consistently excellent services, word got around. The company grew to 30 employees with 3 supervisors. We specialized in commercial and residential cleaning and surface care. I sold the company and moved to Florida, where I started Stone and Tile Medics.
Our training and certification includes marble and natural stone repair and restoration for floors, countertops, walls, and more. We also service quartz surfaces.
I've implemented a systematic process that consistently produces outstanding results, each and every time. The Stone and Tile Medics restoration process, diamond grinding and honing, gives the stone better clarity and reflectivity and provides longer-lasting results than other restoration methods.
My continued success is based on this philosophy: Do whatever it takes to meet and exceed the highest standards of professionalism and quality. I believe in using only the best products and technologies to clean, polish, and restore marble, terrazzo and natural stone surfaces.
— Brian Corsair